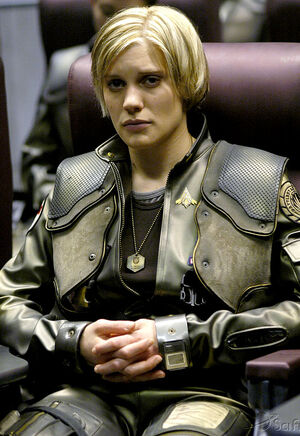 Kara "Starbuck" Thrace is a gifted Viper pilot, with an attitude that has hindered her career in the Colonial Fleet. However, William Adama has confidence in Thrace's military skills, and she greatly aids the Fleet inside and out of the cockpit. She is the last Commander, Air Group (CAG) of Galactica.
Circumstances
Edit
Captain, Colonial Fleet
Viper Pilot
Ad blocker interference detected!
Wikia is a free-to-use site that makes money from advertising. We have a modified experience for viewers using ad blockers

Wikia is not accessible if you've made further modifications. Remove the custom ad blocker rule(s) and the page will load as expected.